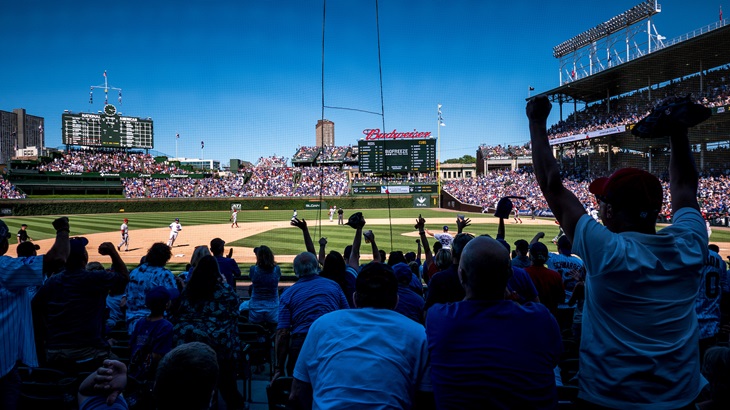 May 28, 2019 - Dynegy has entered into a multi-year partnership with the Chicago Cubs to become the Official and Exclusive Energy Provider for the Chicago Cubs and Wrigley Field.
"We're excited to welcome Dynegy as our official and exclusive energy provider of the Cubs," said Alex Seyferth, vice president of corporate partnerships, Marquee Sports and Entertainment. "We share Dynegy's commitment to deliver best-in-class service as well as provide an enhanced gameday experience for fans visiting Wrigley Field."
Selecting the right energy supplier is critical to ensuring efficient use of power, following what has been a significant update of the ballpark. These efforts aim to upgrade the overall gameday experience for fans while preserving the beauty, charm, and historic features of Chicago's beloved Wrigley Field.
"We're looking forward to bringing the energy to such an iconic ballpark and to powering the great experience Chicago Cubs fans have at Wrigley Field," said Gabe Castro, vice president, business markets for Dynegy. "We know people and businesses have a choice when it comes to their energy provider. Dynegy is honored to be associated with one of baseball's most celebrated clubs and the nostalgic ballpark in which they play."
In addition to powering the ballpark, Dynegy will have a strong in-ballpark sponsorship and marketing presence as part of its multi-year deal.
"We're excited about some of the innovative things we've got in the works due to this partnership agreement," said Sydney Seiger, chief marketing officer for Dynegy. "We're developing unique offers and electricity plans exclusively for Chicago Cubs fans."
The company understands the unique operational needs of professional sports facilities and is committed to creating tailored solutions that work for each of its customers. Dynegy is also the official energy provider of The Great American Ball Park, home of the Cincinnati Reds.